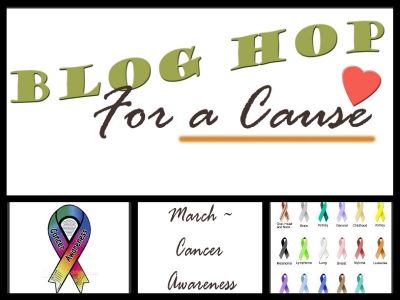 A bunch of us bloggers have teamed up again. This time we will be doing monthly bloghops that highlight a different cause each month. This month (March) is Cancer Awareness. Please read my post below and then follow the linky at the bottom of the page to more post from other bloggers that consist of inspiring stories, organizations, and more!
I want to start off by mentioning a few statistics.
Over 90% of people know someone with some type of cancer
1 in every 3 women will develop some type of cancer in their lifetime
1 in every 2 men will develop some type of cancer in their lifetime
Many of the over 200 different types of cancer are considered diseases of aging so the longer you live, the greater you chances are of contracting
Do I have your attention yet? I hope so. Cancer is a very serious condition and it is never anything to turn our backs on. I have lost both of my grandfathers to cancer and have known many others with cancer and it is never pretty. One of the treatments for cancer is Chemotherapy. This type of treatment generally causes hair loss in the patient. The hair loss can damage self-esteem and confidence in anyone but especially children.
Locks of Love is and organization I donate to every time I get my hair cut. I grow my hair out to my butt and then cut it short just to be able to donate it to children who need it more than me. This is an organization that is close to my heart and I would like to tell you more about it.
Locks of Love is a non-profit organization that provides wigs and hairpieces to financially disadvantaged children under the age of 21 who suffer from long-term hair loss from any diagnosis, not just cancer. In fact the majority of "their children" suffer from a autoimmune disorder called alopecia areata. they even provide hairpieces to children who have suffered severe burns or other skin disorders. Although this post is based around cancer I do not want you to think that Locks of Love discriminates based on disease and will only help the victims of cancer. They are unbiased as to the disease that has caused the hair loss.
The children that Locks of Love aids have not just lost their hair...they have lost a part of themselves along with their self-esteem and their confidence. These are two very important things in a child. If a child does not possess self-esteem or confidence then how will that child believe in themselves, love themselves, and succeed in life as a happy individual? Locks of Love wants to combat theses esteem and confidence issues.
Children that suffer hair loss will often withdraw from normal activities such as swimming or playing with their friends because they are teased by classmates or are embarrassed at the looks they receive because of their hair loss. Locks of Love want to be part of giving them back their confidence!
Many of the wigs that are sold by retailers are many for adults and are too large for a child's head. But that is not the only thing wrong with wigs from retailers... Wigs from retailers often require glue or adhesive for the wig to stay in place and this can irritate the scalp. They are also made from synthetic hair that will become matted and frizz with a lot of styling. Think of a Barbies hair....what happens after months of playing with her hair and styling it? It becomes frizzy and poofy and unattractive and definitely not manageable. The same is true for synthetic wigs. This is why Locks of Love buys wigs made from real human hair and ensures that children of all ages and head sizes can have a wig that makes them feel beautiful.
The wigs that Locks of Love donate are expensive and well-made. The wigs provided by Locks of Love are unique and form a type of vacuum seal on the child's head, kind of like a suction cup, holding the wig in place without adhesives or glues. This means kids can be kids; they can swim, ride bikes, run and play and everything other kids do without the worry of another child pulling off their hairpiece or losing it as they play or swim. Another benefit of the Locks of Love hairpieces is that they are all distributed to the children long so that the child can cut and style it as if it were their own hair. If sold in retail these wigs would range from $3,500 to $6,000. That is why the Locks of Love program is so greatly needed. Many families cannot afford that kind of money, especially when they already have all the doctors bills to pay.
Want to help? You can donate hair or money, you can also volunteer at local events. To find out more about about how you can donate or volunteer go to the
Locks of Love site
.
Make sure you check out the other AWESOME post on the linky below!
J

enn, Mom Of Two Munchkins
in no way

compensated

for

this

post. This post was written because it is something

Jenn, Mom Of Two Munchkins

believes in and supports. Pictures included in post are from the LOCKS of Love site and are not owned by

Jenn, Mom Of Two Munchkins.